Print this page
Wet Chemistry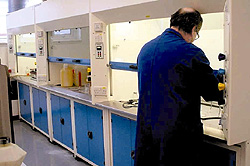 The laboratory has a great deal of formulation and analytical chemistry experience together with the associated equipment which is applied for characterising chemicals and materials:-
The laboratory provides a range of bench based analytical services, some of which have been ISO17025 (UKAS) accredited:-
Titration and titrimetric techniques
Digestion techniques, such as acid digestion of metals, or bespoke ones designed to separate out specific chemical states or compounds.
Solvent extraction, separation and extraction of organics for FTIR identification.
Carbon contents of steels etc. can be measured using a furnace/non aqueous titration technique.
These methods are often used in conjunction with the diverse analytical instrumentation at the laboratory:- AAS, XRF, FTIR, HPLC, GC, GC-MS, UV / Vis, TGA, SEM/ EDX, XPS, SIMS and AES.
Sample Preparation
Extensive range of laboratory, sample treatment, process modelling and sample preparation facilities are available in our laboratories:-

Ovens and furnaces
Balances and microbalances
Sample preparation equipment
Fume cupboards & wet chemical preparation
Ball Milling
Particle Size Analysis
Particle sizes of powders separated using vibration sieve sizing.
Particle size and size distribution measurement by Sedigraph sedimantation techniques.
Particle analysis by Optical microscopy, SEM and Image Analysis.
Atmospheric Monitoring
Analysis of atmospheres for organic, inorganic and particulate materials.
Vacuum Leak Detection
Leak testing of vacuum equipment – Edwards High Vacuum Leak Tester.
Gas Analysis
Detection of water, oxygen and analysis of gas mixtures.
Application Notes