Print this page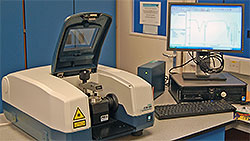 Typical Applications of FTIR
FTIR (Fourier Transform Infra-red Spectroscopy) is a sensitive technique particularly for identifying organic chemicals in a whole range of applications although it can also characterise some inorganics. Examples include paints, adhesives, resins, polymers, coatings and drugs. It is a particularly useful tool in isolating and characterising organic contamination.
Typical Applications of FTIR
Identification of simple mixtures of organic and inorganic compounds both as solids or liquids.
Identification of polymers and polymer blends.
Indirect verification of trace organic contaminants on surfaces.
Routine qualitative & quantitative FTIR Analysis.
Thin film analysis.
Small visible particle chemical analysis.
Analysis of stains and surface blemishes remnant fromcleaning and degreasing processes combined with optical microscopy, SEM/EDX, XPS and SIMS techniques.
Analysis of resins, composite materials and release films .
Solvent extractions of leachables or contaminants, plasticisers, mould release agents and weak boundary layers coupled with XPS surface chemical analysis techniques.
Identification of rubbers and filled rubbers.
Determination of degrees of crystallinity in polymers (eg LDPE and HDPE).
Compararive chain lengths in organics.
Extent of thermal, UV or other degredation or depolymerisation of polymers and paint coatings.
Analysis of a gaseous samples using a gas cell for headspace analysis or environmental monitoring.
Analysis of unknown solvents, cleaning agents and detergents.
Assessment of degradation and oxidation of polymers.
Application Notes
Principles of FTIR Spectrophotometry
FTIR relies on the fact that the most molecules absorb light in the infra-red region of the electromagnetic spectrum. This absorption corresponds specifically to the bonds present in the molecule. The frequency range are measured as wave numbers typically over the range 4000 – 600 cm-1.
The background emission spectrum of the IR source is first recorded, followed by the emission spectrum of the IR source with the sample in place. The ratio of the sample spectrum to the background spectrum is directly related to the sample's absorption spectrum. The resultant absorption spectrum from the bond natural vibration frequencies indicates the presence of various chemical bonds and functional groups present in the sample. FTIR is particularly useful for identification of organic molecular groups and compounds due to the range of functional groups, side chains and cross-links involved, all of which will have characteristic vibrational frequencies in the infra-red range.
Sample Preparation and Analysis Techniques for FTIR:
Horizontal ATR – attenuated total reflectance. Allows measurement of aqueous solutions, elastic and viscous samples which are difficult to grind and analysis of small samples and localised organic contamination.
Specular reflectance – allows measurement of thin films on metals
KBr Discs – allow suspension of powders or contaminants in IR transparent KBr so they may be analysed
Gas cells for head space analysis.
Solvent extractions of low level bulk organic compounds and surface contaminants.
Solution cells – for measuring liquid sample in transmission mode.
Features of the Laboratory's FTIR Capability:
LPD Lab Services purchased a new FTIR Instrument in September 2010 - JASCO FT/IR-4100 spectrophotomer. The main benefits of the instrument are:
Performance over large wavelength range 7800-350 cm-1 resolutions up to 0.9 cm-1 and stunning signal to noise ratio of 22,000 to 1
State of the art HATR (Horizontal Attenuated Total Reflectance) accessories with high energy throughput can allow for quick analysis of liquids and solids with minimal sample preparation, or where difficult to grind samples have been traditionally been problematic. It allows analysis of powders and small sizes of contaminants.
A library of spectra combined with analysis software enables the constituents of multi-component mixtures to be analysed and semi-quantitative information on concentrations to be obtained.
Corrosive sample types such as acids and bases can be analysed.
The ability to analyse thin coatings or solid samples with high refractive index such as carbon filled elastomers.
The system is also supported by an 'IR Knowledgebase' with over 30,000 spectra of a wide range of chemicals allowing the identification of many uncommon materials.
The FTIR Spectrophotometer can also be operated in the traditional transmission mode using liquid cells, KBr discs, and with gas cells.
Specular reflectance accessories can also be supported, allowing measurements of thin films on reflective materials such as metal.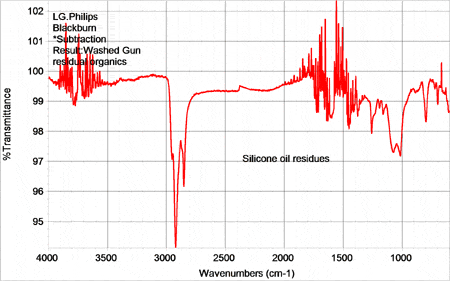 Trace Silicone Oils on Gun Parts (Above)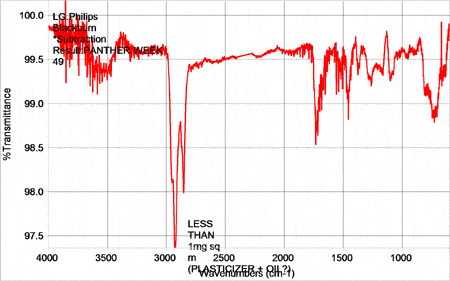 Trace Plasticizer on Hard Drive Parts
Our site experts on FTIR are Adam May and Mike Ellicott.
Please contact us to discuss how your requirements can be met using this or any of our analytical techniques.