Print this page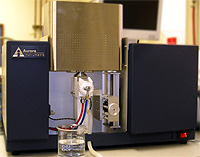 Typical Applications of AAS (Atomic Absorbance Spectrophotometry)
Quantitative metal concentrations in solutions
Monitoring of trace metals in industrial effluent streams
Trace elements in product / raw materials
Analysis of additives and purity in steels and other metal alloys
Analysis of low level contaminants
Extensive wet preparation facilities are also available on site. For example carbon contents of steels etc. can be measured using a furnace/non aqueous titration technique.
Application Notes
Principle
AAS quantitatively measures the concentrations of elements present in a liquid sample. It utilises the principle that elements in the gas phase absorb light at very specific wavelengths which gives the technique excellent specificity and detection limits.
The sample may be an aqueous or organic solution, indeed it may even be solid provided it can be dissolved successfully. The liquid is drawn in to a flame where it is ionised in the gas phase.
Light of a specific wavelength appropriate to the element being analysed is shone through the flame, the absorption is proportional to the concentration of the element. Quantification is achieved by preparing standards of the element.
Features of the Laboratory's AAS Capability
Aurora AL 1200 – AAS with programmable gas control
Inert Teflon spray chamber
Titanium burner head
Impact bead
Adjustable nebuliser technology
Better than 0.5% RSD from ten 4 second integrations
Enables elemental analysis at the parts per million level for a wide range of metals and some non-metals:
Elements available: Silver, Aluminium, Arsenic, Gold, Bismuth, Barium, Beryllium , Calcium, Cadmium, Cobalt, Chromium, Copper, Iron, Potassium, Magnesium, Manganese, Molybdenum, Sodium, Nickel, Lead, Antimony, Silicon, Tin, Strontium, Tellurium, Tungsten, Zinc and Zirconium. (Other elements available on request).
Hydride kit available for analysis of trace arsenic, antimony, tin, selenium, bismuth and mercury
A cold vapour mercury accessory kit is also available for trace mercury analysis.
Our site expert on AAS is Steven Whittle.
Please contact us to discuss how your requirements can be met using this or any of our analytical techniques. We can issue no-obligation quotations once we have discussed your needs and can offer two levels of service "urgent" and "normal". We also offer preferential rates for longer term analysis contracts. Click here to find out more.