Print this page
In order to enhance customer's confidence in the analysis provided by LPD Laboratory Services we have implemented a quality management system which adheres to the very stringent requirements of ISO 17025:2005. We have chosen a broad range of specific tests which are accredited (list below). However, the quality system is applied to all aspects of the laboratory regardless of whether an accredited test is chosen or not.
Water Content by Karl Fischer Analysis
Conductivity of Solutions - method 2002
pH Measurement of Solutions - method 2003
Environmental Monitoring of Metals Using Thin Films and XRF; Pb, Cd, Zn, Fe, Ni, Cr
Lead (pb) on filter analysis
Titrimetry of strong acids : Nitric Acid, sulphuric acid and hydrochloric acid
Trace Metals in Effluent Using AAS; Ni, Cd, Cr, Cu, Pb, Zn
Bespoke analytical method development methods may become UKAS accredited on request.
To maintain our accreditation we are audited annually by UKAS but we also have our own team of internal auditors who audit the quality system on a regular basis in between.
To see our accreditation schedule on the UKAS site please click here
Quality Policy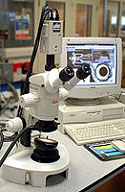 Our goal is customer satisfaction. We are committed to providing an excellent service and have implemented a full quality assurance system. The LPD Laboratory Services Ltd management will continually improve the effectiveness of the quality system within the confines of the international standard ISO 17025. The laboratory staff are fully competent in using the quality system to ensure consistent testing results.
The laboratory is fully committed to the following:
Maintaining a quality management system which meets the requirements of ISO 17025:2005
Continually improving the management system
Operate within the spirit of all relevant legislation
Download a PDF of the quality policy here

Please do not hesitate to contact the Quality Manager (Mike Ellicott) if there are any queries about our laboratory quality system.