Print this page
Dr Stephen Jenkins - Managing Director and Surface Analysis Expert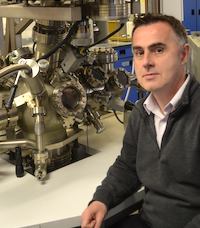 I have a Degree (Hons) in Materials Technology which included working for Duracell and GKN and PhD involving development of XPS instrumentation to understand a paint / substrate interfacial system. After a short contract at NPL working for Martin Seah, I joined Fisons Instruments - VG Scientific (XPS and AES instrument manufacturer) as an Applications Scientist. I then moved on to work as a Surface Analysis specialist in the Physical Failure Analysis department of Siemens Microelectronics (DRAM semiconductor wafer manufacturing) and then finally to Philips Blackburn (thermionic cathode manufacturer) as a development engineer. Here I brought in a whole range of surface analysis instrumentation to solve materials and production problems in support of cathodes and downstream CRT customer's factories. In latter years this work was also for customers outside the organisation involving completely different types of product. I moved into cathode Research and Development in a technical role and continued to gain experience in project management and project leadership before I became responsible for the management of the laboratory's 3rd party sales and business and technical activities. Successful business growth led to me managing the laboratory as a whole, looking after both internal and external business.
I have over 20 years experience in a diverse range of industries, the use of problem solving, product and process development, project management, decision making tools and have travelled widely on business over my working career. Immediately following the factory's closure, in October 2009 I led the management buy-out of the laboratory and the formation of the independent analytical and technical consultancy company LPD Lab Services Limited becoming the Managing Director.
Despite being the Managing Director and being responsible for all manner of commercial, budgetary, sales and marketing activities, I still conduct a large amount of technical work and write many technical reports. My responsibilities for LPD Lab Services include handling the first contact with customers, evaluating their requirements and issue of quotations. I organise the lab's response and also project manage larger customer support activities including product and process research and development. I frequently work on contaminant investigations and material and product failure analyses and my practical experience of a diverse range of analytical techniques, their capabilities and limitations, coupled with experience of materials and chemical analysis means I take a leading role in many technical projects as well as data interpretation and reporting.
During my career I have written, contributed to and had published a range of peer reviewed scientific papers as well as presented at numerous international conferences. I am also the technical surface analysis expert and am a commitee member of the UK Surface Analysis Forum (UKSAF).
Dr Wyndham Johnstone - Technical Development Manager and Thermionic Emission Expert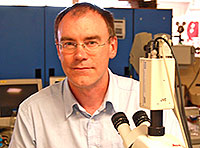 I joined LPD Lab Services at the end of August 2010 as the Technical Development Manager. I am the customer interface and internal manager on the larger projects, ensuring that work is scoped out and delivered to customers on time and with the usual high level of quality and context orientated interpretation that LPD Lab Services offers. I am also the laboratory's key Thermionic Emission expert.
I have a proven track record in of developing innovative solutions to complex problem by exploiting a wide range of analytical techniques. I have many years of experience as a technical product manager, supporting a world wide customer base with their development needs requirements and solving their problems in a timely, cost effective and pragmatic way.
I have a PhD in experimental physics from University College London and in 1994 I moved to Philips Display Components in Blackburn.
I set up and managed a group to provide technical support in the use, application and development of the Blackburn product to its worldwide customer base (Europe, Asia and the USA). I was instrumental in identifying product development opportunities and leading cross-functional teams, often with customers, to deliver million Dollar cost savings.
I have also worked for Baxi Heating UK in their R&D centre. There I led several projects including one to rationalise the number of electronic control suppliers. I also developed a Baxi group electronics verification/reliability procedure, developing tools and techniques to improve the effectiveness of life testing to meet reliability requirements.
I am a Six Sigma Black Belt and have extensive experience of using these skills in combination with many of LPD Lab Services wide array of analytical techniques to develop new products or processes and solve problems.

Mike Ellicott CChem MRSC - Senior Applications Scientist - Laboratory Quality Manager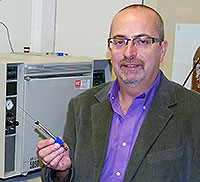 I gained a very practical degree (GRSC Part II) in Chemistry at Preston Polytechnic, and have held the professional qualification of Chartered Chemist (C.Chem) and Member of the Royal Society of Chemistry (MRSC) since 1991.
My industrial experience has been gained over 20 years at companies such as ICI, Chorley ROF (MQAD), BTP Cocker Chemicals, Whitbread, MITRE Sci-Tech Services, Wolstenholme International and finally LPD Laboratory Services. I have also studied for a Certificate in Industrial Management at Preston Polytechnic, and gained the Associate Membership Examination of the Institute of Brewing.
The roles I have taken on are as diverse as Laboratory Technician, Research Chemist, Pilot Brewery Scientist, Process Development Scientist, Packaging Development Engineer, Project Leader - Chemist, and Senior Applications Scientist.
My problem solving skills have developed by traditional approaches & by novel Synetics methodology. I am a proven inventor, having one patent for a dissolved nitrogen analyzer under my belt.
I am now part of a very experienced team at LPD Laboratory Services, mainly working in a customer facing role as a Senior Applications Scientist dedicated to giving our customers cost effective solutions to their problems, on-time and within budget. My responsibilities within LPD Lab Services also include acting as the Laboratory Quality Manager looking after UKAS accreditation as well as customer liaison and quotation preparation.
Keith Raper - Senior Scientist - SEM, EDX and XRF Expert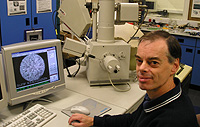 I graduated from Liverpool University in 1978 with a BSc (Hons) in Chemistry with Metallurgy and Materials Science, before working as a research assistant at the University studying the effects of high temperature corrosion on corrosion resistant coatings on nickel based super-alloy materials, developing a knowledge of electron microscopy and microprobe analysis.
I joined Philips Components (formerly Mullards) in 1984 as an analyst in the laboratory, but soon took over responsibility for production problem solving work using the electron microscope, EDX and X-ray Fluorescence analysis.
I developed expertise on problems associated with a wide range of materials and manufacturing processes, since the factory produced several different products, including thermionic cathodes for TV tubes, CD's and video discs (including a full master and stamper making facility), spiralised tungsten and molybdenum wire (with production from ore to finished product), glass delay lines, flat foil capacitors, write-once recordable laser discs and fibre optic coupling devices.
In addition to this, I have undertaken problem solving and analysis work for other UK, European, American and Far East factories in the organisation, manufacturing glass screens, metal masks, TV tubes, magnetic deflection cores and rare-earth magnets, as well as for several local companies manufacturing a range of metal products and components, printed circuit boards, powder chemicals etc.
My role in LPD Lab Services is that of SEM, EDX, Optical Microscopy, Image Analysis and XRF expert, and I am frequently asked to join both local and international teams set up to investigate manufacturing, product and process problems, contaminant identification, isolation and elimination, where I normally take a leading technical role.
The type of work I have experience in has diversified since 2003, as the laboratory branched out into increasingly different areas of analytical and technical support for all manner of industries. The in-depth interpretation I provide draws upon my materials and chemicals experience. I occasionally conduct customer site sampling visits related to dust issues, but a significant proportion of my work involves contaminant identification in products and processes and reverse engineering.
Steven Whittle - Senior Chemist and Analyst - FTIR, HPLC, GC, AAS, Method Development and Validation.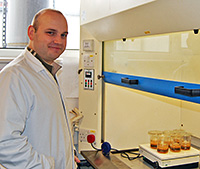 I am a graduate of Manchester Metropolitan University with a BSc (Hons) in Applied Chemistry as well as having a HNC in chemistry from the University of Salford. I am a member of the Royal Society of Chemistry.
I began work in 1997 and for 13 years worked in the pharmaceutical industry for 2 different companies becoming a senior analytical chemist. Work comprised quality control analysis of raw materials, active pharmaceutical ingredients (API) and finished products plus cleaning validations, method development and validation, stability studies and dissolution profile analysis.
I then moved on to work for a contract laboratory Rhys Biotech. There I built and implemented an ISO 17025 quality management system and spent the bulk of my time developing and validating a wide range of standard and unique bespoke analytical methods for a variety of different customers. These methods included:-
Quality control analysis developing methods for new products or improve on existing methods to reduce costs, reduce risk and analysis time. Product failure analysis and problem solving. Contamination isolation, identification and elimination. Product formulation and comparison analysis. Materials / product degradation and stability studies.
I am a vastly experienced user of FTIR, HPLC, GC, AAS, and UV Spectroscopy. My other areas also cover NMR, Mass Spectroscopy and ICP.
Susan Beardwood - Analytical Chemist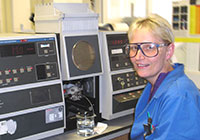 I commenced working for the site (formerly Mullard) direct from school (1978). Qualified to HNC level, through apprenticeship/day release study programme. I have a broad and varied practical knowledge, and experience in both wet chemical techniques and analytical instrumentation. Some of which include, Atomic Absorption Spectroscopy, X-Ray Fluorescence Spectroscopy, UV spectroscopy, Gas Chromatography, High Pressure Liquid Chromatography.
In addition to my HNC I have also completed an Open University degree (June 2000).
Dr Howard Coulson - Senior Applications Scientist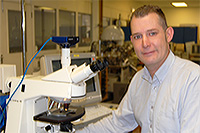 I have a Degree (Hons) in Pure and Applied Physics, and progressed onto an industrial PhD involving the characterisation of deep levels in microwave devices and the device noise from Philips Power Semiconductors. I began work for Siemens Microelectronics as a Physical Failure Analysis Engineer, to determine the failure location, reverse engineer, and analyse defects created during and after processing. I then moved on to be a development engineer for Philips Power Semiconductors, developing a novel power schottky device in the manufacturing area. This allowed an insight into the demands and requirements of manufacturing and the need to develop new products. I then returned to Failure Analysis with ATMEL, a smartcard and microcontroller manufacturer as a Principal Engineer. This experience has allowed me to use a varied suite of techniques and provide customer support to process, product, development, yield and quality assurance departments.
I have 9 years experience in the semiconductor industry using a variety of techniques in a fast turnaround, results based industry. I have experience of statistical process control, project management, developing local networks for business enhancement, and managing a department. I am currently undertaking an MBA with the Open University.
I am part of an experienced team as a Senior Applications Scientist, complementing the team with my extensive use of SEM, EDX, FIB, wet and dry etching. My responsibilities within LPD Lab Services include acting as the, customer liaison, quotation preparation and project management. I am also responsible for analysis using SEM and other techniques within the group.
Andrew Price - Applications Chemist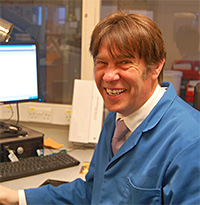 I joined LPD Lab Services in the role of Applications Chemist in a customer focussed problem solving role. I have a degree in Applied Chemistry from Trent Polytechnic and an MSc in Advanced Materials Technology from The University of Surrey. In addition I have two granted patents and three published patent applications ranging from conductive adhesives to solder pastes to adhesion promoting etches for multilayer printed circuit board fabrication.
I have gained over 20 years of experience in the Electronics and Industrial Speciality Chemicals markets having worked in the Central Research Laboratories of the Cookson Group before moving to the Cookson Electronics European Research Centre. Further industrial experience was gained at the Laboratories of Warton Metals Limited as a Research and Works Chemist.
My knowledge is wide ranging having developed a number of innovative new technologies and products in the areas of adhesives and soldering and this experience enhances the laboratory's reverse engineering services by providing expertise ranging from deformulation and benchmarking through to formulation development and manufacturing processes improvement. In addition my experience in electronics materials research and development complements LPD Lab Services' customer technical problem solving capabilities in both the Electronics and Industrial areas.