Print this page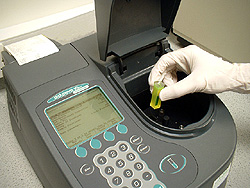 Applications of UV and Visible
Spectrophotometry
Suitable for colorimetric measurements
Specular reflection measurements
Trace organics analysis / monitoring
An extensive library of colorimetric and organic analysis methods is available including a wide range of applications:-

Clinical analysis
Colour analysis
Trace pollutant analysis
Cr(VI) measurements
No documents matching criteria
Principle
Many chemical species absorb light in either the visible or ultra violet region of the electromagnetic spectrum. This absorption is caused by the changing electron energy levels in the molecule and is therefore characteristic of the molecular structure. The technique is particularly useful for performing rapid quantitative concentration measurements of organic species in solution.
Features of Laboratory's UV & visible Capability
Genesys 10 UV Scanning Spectrophotometer
Wavelength range 200 to 1100nm and scanning facility from 200nm to 1100nm/min
Software for Standard curve fitting, Absorbance ratio, Absorbance difference, Kinetics, fast survey scanning, multiple programmed wavelength measurement
Our site expert on UV/Vis Spectrometry is Harry Knappett.
Please contact us to discuss how your requirements can be met using this or any of our analytical techniques. We can issue no-obligation quotations once we have discussed your needs and can offer two levels of service "urgent" and "normal". We also offer preferential rates for longer term analysis contracts. Click here to find out more.