Print this page
FTIR Microscope, FTIR and NIR Spectrophotometer Instrument Capabilities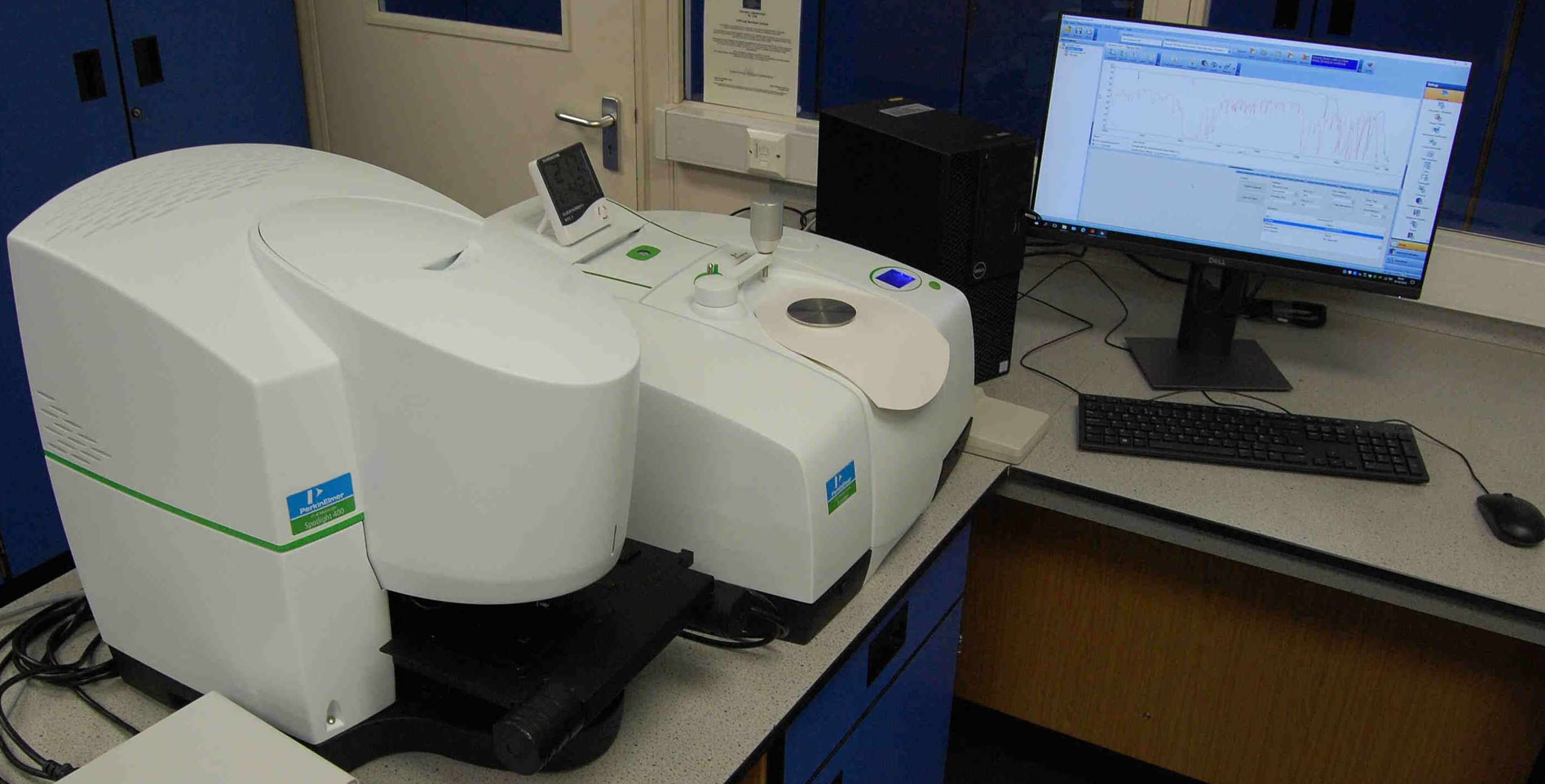 The Perkin Elmer Spotlight 400 FT-IR Imaging System with Frontier MIR/NIR is a state-of-the-art instrument capable of analysis of samples from bulk solids and liquids down to tiny particles and layers as small as 1.5micron in size targeted using the microscope system. The materials can be chemically mapped in the IR particuarly for organic chemicals and materials.
FTIR-NIR Instrument Capabilities of Spotlight 400 (very small sample analysis):
Performance over large wavelength range 7800- 700cm-1 and pixel resolutions of 1.5, 6.25, 25, or 50 microns
ATR Attenuated Total Reflectance imaging accessory allows analysis of multiple particles and layers in parallel.
Micro-ATR accessory for high quality spectra of microscopic particles / contaminants.
Heated stage accessory (-195 to +600degC) with the ability to perform time dependent humidity studies.
Library of spectra combined with analysis software.
FTIR Microscope can also be operated in the traditional transmission mode using liquid cells and KBr discs.
Specular reflectance accessories can also be supported, allowing measurements of thin films on reflective materials such as metals to measure oxide thickness.
FTIR and NIR Frontier Large Sample Analysis
Performance over large wavelength range 10000 – 450cm-1.
Transmission accessory allowing the collection of traditional spectra over a wider range than older instruments.
ATR Accessory with diamond/ZnSe crystal allow for analysis of liquids and solids with minimal sample preparation. ATR allows FTIR analysis of powders and small sizes of contaminants.
Analysis of opaque or highly scattering solid samples such as pharmaceuticals, food products, soap powders, coal, clay, soil, paper, painted surfaces, polymer foam and catalysts with diffuse reflectance.
Variable-Angle Specular Reflectance to measure reflection spectra of dielectrics at optimum angle, reflection-absorption spectra of thin films, refractive index and thickness of thin films and refractive indices from reflectance spectra.
The Diffuse Reflectance Infrared Transmission DRIFT accessory allows measurement of spectra from powders and, by the use of abrasive pads and sticks, surfaces from solid materials. Because they involve transmission and reflectance of the infrared beam the theory of DRIFT analysis is slightly different to conventional FTIR but the spectra are familiar in their general appearance and qualitative interpretation.
NIR Near Infrared Reflectance for reflectance measurements of light-scattering solids, and powders. FT-NIR applications include raw materials identification, determination of nutritional quality and adulteration of food, quantitative analysis of industrial liquid or solid samples. The use of a Transflectance accessory enables spectra to be recorded from liquids.
Output from this instrument may be in the traditional Transmission format or in Absorbance. Other formats may be used for specialised purposes.