Print this page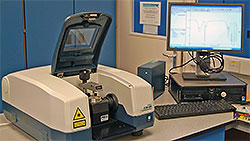 The JASCO FT/IR-4100 spectrophotometer allows organic bulk solids and liquids as well as gases with a gas cell to be analysed. Small or low concentration samples can be investigated by traditional chemical preparation methods like concentrating practices and KBr discs or samples can be analysed by using either diamond or germanium HATR Horizontal Attenuated Total Reflectance crystals. The germanium is more surface sensitive and less prone to interference when IR opaque carbon black is present in a formulation like a rubber material.

FTIR Performance
Performance over large wavelength range 7800-350 cm-1 resolutions up to 0.9 cm-1 and stunning signal to noise ratios
State of the art HATR (Horizontal Attenuated Total Reflectance) accessories with high energy throughput can allow for quick analysis of liquids and solids with minimal sample preparation, or where difficult to grind samples have been traditionally been problematic. It allows analysis of powders and small sizes of contaminants.
A library of spectra combined with analysis software enables the constituents of multi-component mixtures to be analysed and semi-quantitative information on concentrations to be obtained.
Corrosive sample types such as acids and bases can be analysed.
The ability to analyse thin coatings or solid samples with high refractive index such as carbon filled elastomers.
The system is also supported by an 'IR Knowledgebase' with over 30,000 spectra of a wide range of chemicals allowing the identification of many uncommon materials.
The FTIR Spectrophotometer can also be operated in the traditional transmission mode using liquid cells, KBr discs, and with gas cells.
Specular reflectance accessories can also be supported, allowing measurements of thin films on reflective materials such as metals.