Print this page
Our XPS Capabilities
XPS is a technique that can measure the elemental composition, atomic concentrations and chemical states of elements present at a samples surface up to a depth of 5nm. The XPS instrument at LPD Lab Services is detailed below:-
XPS Instrument - VG Scientific ESCALAB 200-D: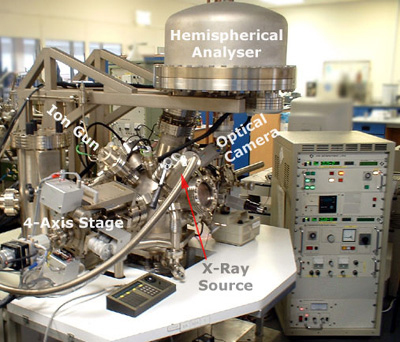 Thermo VG Scientific http://www.vgscientific.com
Twin anode X-ray source (AlKα and MgKα).
5 channeltron hemispherical sector analyser (HSA).
Aperture system for small area XPS.
EX05 Inert gas ion source for sample cleaning and sputter depth profiling.
Optical camera alignment of samples.
Multiple sample loading on extended sample stubs.
Turbomolecular pumped fast entry air lock for rapid sample loading.
4 Axis stage with sample heating and cooling options.

Our site expert on XPS is Dr Stephen Jenkins.
Application Notes