Print this page
The surface free energy of a surface is interlinked with the wettability of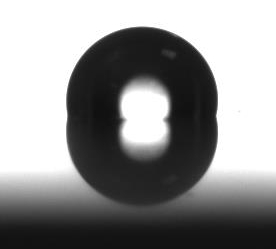 the surface. If the surface free energy is known then the behaviour of a range of liquids with the surface can be calculated. This includes the interfacial surface tension and work of adhesion. Understanding these factors is important for a wide array of products and processes. Some examples include:
Coatings, cleaning, printing, bonding, dispersion
LPD Lab Services Ltd can measure the surface free energy for a wide range of liquids and surfaces. By measuring the contact angles of a range of liquids on test surfaces (sessile drops), the surface free energy can be determined. The images show different wettability of water and diiodomethane on the same surface.
Alternatively, the test surface can be assessed using the Wilhemy plate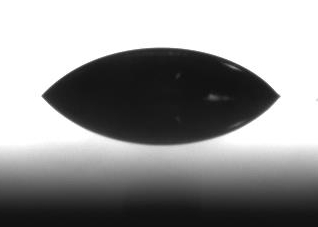 method. It is even possible to meaure the surface free energy of powders using the Washburn method.
LPD Lab Services has state of art equipment for the measurement of contact angles of liquids on surfaces. LPD uses a Dataphysics Optical Contact Angle (OCA35) for the measurement of optical contact angles of sessile drops. For measuring powder contact angles or utilising the Wilhemy plate method, LPD uses a Dataphysics Dynamic Contact Angle Tensiometer (DCAT21).